Sarah Shuda | UX Designer | Product Designer
A human-centered designer who crafts delightful digital products.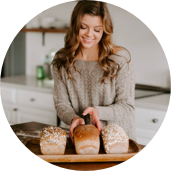 Everything she designs is beautiful. I absolutely LOVE the theme, colors, and most of all the unique doodles she has created specifically for my company. I feel 100% confident in Sarah representing my brand. Working with Sarah is always the highlight of my day!
–Gracie Hauser, Gracie Girl®