Product Design • Web Design • User Experience
I design delightful, customer-focused online experiences.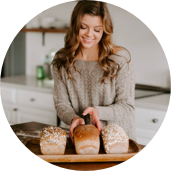 Everything she designs is beautiful. I absolutely LOVE the theme, colors, and most of all the unique doodles she has created specifically for my company. I feel 100% confident in Sarah representing my brand. Working with Sarah is always the highlight of my day!
–Gracie Hauser, Gracie Girl Bakery
I'm a friendly, midwestern, web & product designer with over 15 years of experience in the food, e-commerce, home and travel industries. I take pride in transforming complex problems into delightful digital products that impact people's everyday lives.

Working with Sarah was such a blessing. I had an idea of what I wanted, and she captured my vision so much better than I could have expected. From our logo design, to marketing materials, and eventually a website, I couldn't have asked for an easier person to work with. Communication was easy; Sarah also has an understanding of nutrition and wellness and is passionate about it. This was perfect for our branding because our product is rooted in improved health and wellness. Designing a brand and website is no easy task – Sarah met our needs perfectly because of her understanding of our product, our ideal client and her desire to support and encourage health for our environment and our bodies.
–Tyler Stanek, Spring Cut Cattle Co.